We were encouraged by the generosity of local foundations and corporations who lifted grant restrictions and pooled resources make unique responses possible - such as funding for immigrants who could not receive government relief and artists in our community.
Esperanza raised $697,742 in COVID-19 related grants to sustain vital operations and respond to emerging needs. We are pleased to share that in the next few months, we will roll out a new "Hope for Homelessness Prevention Program" with the Philadelphia Office of Homeless Services, which will allow us to provide desperately needed rental assistance to 72 families.
Meet our VP of Development, Christine Nieves, CFRE!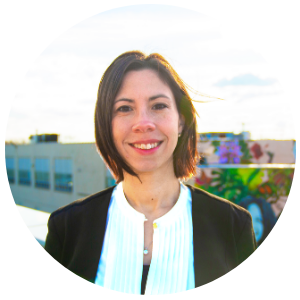 It is a great privilege to join Esperanza's leadership team as Vice President of Development. I look forward to coming alongside each of you – the many public and private supporters that make up our Esperanza family – to share the difference your giving makes in the lives of those we serve.
Our supporters are drawn to Esperanza for reasons as multi-faceted as the organization itself: for some, faith and our missional work is the primary source of connection; for others it is our Hispanic heritage; and still others, a desire to see families overcome poverty and succeed through our excellent programs.
Across each of these areas of interest is a sense of community and connection. Together, we are making hope possible - and there is nothing more rewarding than that.
Please reach out with any questions you have about how Esperanza is adapting to today's challenges; how our programs and services can benefit your own family or networks; and giving opportunities. I am a quick email away at cnieves@esperanza.us!
Stories of Transformation & Hope
Congratulations Esperanza Academy Class of 2020!
As we enter the new school year – which will be virtual for both our cyber and brick-and mortar schools - we wanted to take a moment to recognize and celebrate our incredible students. Esperanza Academy hosted a virtual graduation ceremony for the Class of 2020 on Monday, June 1st. The video was streamed via YouTube for students and families to view and diplomas were presented to students during the week of June 8th. There were 161 graduating seniors! ¡Adelante! We are proud of their talent, perseverance, and the contributions they will make.
Guillermo's Story: Seizing Hope
When Guillermo reached out to Esperanza, he had lost his job of many years. He was behind on his utilities and in foreclosure. As the only member of his household to earn an income, Guillermo urgently needed a job and knew what he wanted: to become a licensed truck driver. Our workforce team assisted Guillermo to enroll in Smith & Solomon Commercial Driver Training for his Commercial Driver's License (CDL). Guillermo completed the program requirements and surpassed the minimum driving training hours. But as he neared his goal, the COVID-19 pandemic began and brought his plans to a halt. His school closed on the very same day his practical exam was scheduled. While many would feel defeated, Guillermo became creative. He inspired Esperanza's team by advocating with local politicians so that he could relocate to another state without closings to complete his exam.
Today, Guillermo has his CDL and his family is thriving! Esperanza is proud to facilitate connections and specialized services for incredible individuals like Guillermo who seize each opportunity for hope.